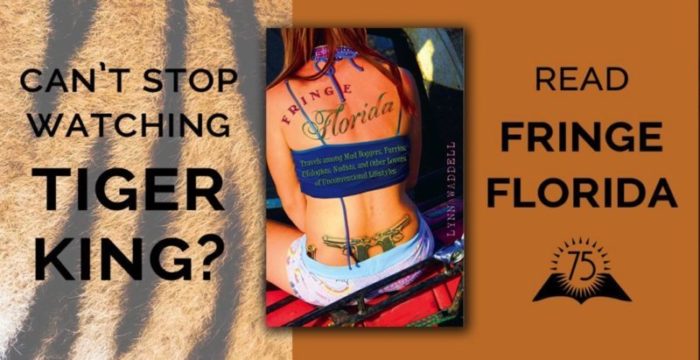 If you can't get enough of Netflix's "Tiger King" documentary, it's a perfect time to read Fringe Florida.
This month my publisher, University Press of Florida, is offering a Tiger sale on my book. Get almost $10 off a hardback and $5 off a paperback. Plus, you will get free shipping!
Exotic animal owners and activist Carole Baskin (murder-for-hire target of Joseph Maldonado-Passage, a.k.a. Joe Exotic) are included in the book along with many other unconventional Floridians. You know, people who dress like ponies, chase UFOs, run carnival sideshows, and others who follow their passions to whatever sunny, muddy, or virtual space it leads them.
Be sure to use the sale link because it goes directly to the University Press of Florida site, not Amazon. Then use the discount code TIGER at checkout.
Also, be sure to watch my blog here, and follow the "Fringe Florida" facebook page for updates. For those interested in learning more about the disappearance of Don Lewis, Carole Baskin's late husband, check out this investigative piece I wrote nearly 20 years ago for Tampa Bay's alternative newspaper.