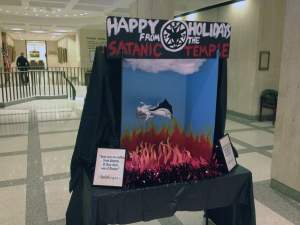 After being shut out last year for being "grossly offensive." the Satanic Temple got a spot among holidays displays at Florida's state capitol just in time to be destroyed by a Christian. A woman wearing a "Catholic Warrior" tee ripped into the diorama, saying she couldn't take it anymore. The other holiday displays including a Festivus pole of Pabst Blue Ribbon beer cans and the Church of the Flying Spaghetti Monster remained unscathed.
The Satanic Temple group based in New York pushed for a display on principle for religious equality. Of course, others argue that it's a fitting locale for an homage to the Prince of Darkness.
As a reminder that Florida doesn't have a lock on weird or the minions of Mephistopheles, the Huffington Post notes the devil also gets props in Michigan's statehouse.