"The  strangest of them all is a seventeen-year-old girl from Leslie, Minnesota. Her name is Angela Perez. Angela has a normal head and an absolutely beautiful face, but that is all that is beautiful and normal about her. Because from the neck down she has a body that looks like a tarantula spider. It's not pretty. It's not nice. When you look at her it may shock you. But you will never forget the spider girl."  — Ward Hall on the bally stage, from the book "Fringe Florida"
When I met Ward Hall a few years ago it was after much build-up. Carnie folk spoke of the showman in reverential tones, referring to him as "King of the Sideshow." Even still, given that he had made his living off people and animals with deformities (he once charged people to see what showmen refer to as "pickled punks," faux fetuses in a jar),  I had expected to find a grizzled old man who might sell his baby brother for $2. But as in most cases during my research for my book Fringe Florida, I found Ward pleasantly defied my preconceived notions, or at least any callous ones. Ward is possibly the world's greatest salesman, but he's also so charming you'll overlook that his baby brother is actually a Cracker Box toy.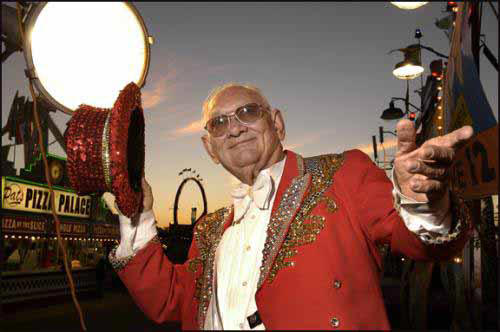 Ward's a master of many sideshow arts. He and his partner Chris Christ own World of Wonders, reportedly the last traveling 10-in-1 sideshow, that's show-talk for 10 acts at one price.  Beginning tonight (Thursday, Jan. 30) and continuing through Feb. 1,  Ward, Chris and a few other industry experts will share their sideshow craft and its colorful history with all who pony up the seminar price, of course. That's $125.
For someone who wants to learn how to sell the fantastical or is just a hardcore sideshow fan, the 2nd Annual Seminar of Sideshow Arts is a bargain. Ward, now in his 80s, is a walking encyclopedia of the sideshow and will share stories, photos, and film tonight. Friday starts with a Sideshow swamp meet. (I'll be looking for a human-size tarantula body.)  Afterwards sideshow pros will lecture on everything from sideshow banners to how to handle a tough crowd.  The final day is filled with field trips, including one to the Florida State Fair for a behind-the-scenes look at the World of Wonders show. The seminar ends with a big performance on Saturday night.
For those who just want to be entertained by sword swallowers, magic acts, and men who pound nails up their nose, tickets to only Saturday's "Big Show" are $15 online. See the schedule and buy tickets onThe Magic Emporium website.
The curious of strange can also catch the World of Wonders and the freak animal sideshow, Tampa-based Jim Zajicek's Big Circus Sideshow , at the Florida State Fair beginning Thursday, Feb. 6.  (Yes, I said freak animals, but that's a story for another time.) Don't miss seeing Spider Woman at the World of Wonders while you're at the fair. You may have seen scarier things at Wal-Mart, but you certainly won't forget her.